From The Home Office of John Thornhill
Internet Marketer and Best Selling eBook Author

Dear future business partner.

If you are already a valued subscriber to my newsletter you know I do my best to provide you with top quality content, tips and advice.
Since 2004 I have been revealing all the methods I have used myself to become successful online. And I know many of my members have used this information to go on to make regular monthly incomes for themselves.

Naturally I will continue to provide my regular free service because I do get immense satisfaction from the feedback I get from those it helps, and I've built some great friendships and partnerships with a lot of people because of it.

But now I need to ask you a serious question..

It's not buying the latest must have massively promoted item and thinking it will solve all your problems and do everything for you, It's not buying into the hype that surrounds so many new launches.

Sure, some of them contain some great info to aid you along if you put it into action, But here's the real answer, The True Key -

One of the fastest ways to become successful is to follow 'closely' someone else who is already successful and do as they do.

Find someone who is already where you want to be and model them. Do as they do and use the same tools, systems and strategies they do. And 'catapult yourself to the next level', racing ahead of where you could have been.

Well I am that key. I will take you by the hand and lead you right down the path to success. And, when I say success... I am talking about being an online marketer that earns hundreds per day and thousands each and every month consistently!

Many have and will continue to do just that by continuing to benefit from my free planetsms newsletter, and as I've said - that will continue.

But - (To coin a song phrase.....)

Baby You Just Ain't Seen Nothing Yet!

"Here's How You Can Have Your Cake And Eat It!"

Announcing .....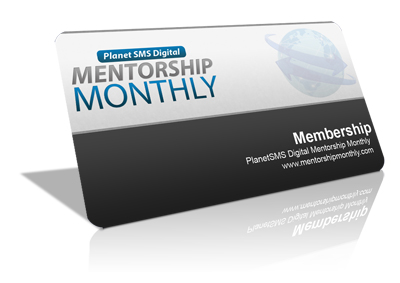 I'm thrilled and excited to offer a new service to that will help you to arrive at where you want to be....

Here's what you'll gain from joining Planetsms Digital Mentorship Monthly:


This will be packed full of money making info. Each month I will reveal methods I actually use myself to make a full time online income. You may be shocked to hear a lot has nothing to do with eBay. All will be revealed.
Real Value $47.00+


Each month I will provide you with training material in the form of audio/video to walk you through some of the most revealing and profit pulling techniques.
Real Value $47.00+


You'll be receiving, at no extra cost, the tools and private label/ brandable material that can instantly start making you money, and acquire the success you've been wishing for.
Real Value $17.00 - $97.00


This will be packed full of money making info. Each month I will reveal methods I actually use myself to make a full time online income. You may be shocked to hear a lot has nothing to do with eBay. All will be revealed.
Real Value,
Priceless..


I Will Promote Your Product(s) To My Subscribers. By following my advice and mentoring, you will soon have quality products of your own. I will have no problems helping you with sales by promoting appropriate products to my subscribers.
Real Value,
You Decide?


Each month you will be able to join in our Q&A session, where I will answer any question you want to put to me.
Real Value,
Priceless..


I want to provide the best service possible. Do you need help listing on eBay? Help creating sales pages? Help creating your own products? Help with building a list? Tell me what you want and I will deliver.
GUARANTEED!
John Thornhill is my personal "go to" expert on all issues regarding eBooks on eBay and he's an incredibly knowledgeable and creative expert on all things "eBay".

He's getting amazing results and the chance to get his personal attention is worth far more than he's asking. Take him up on this offer before he comes to his senses and quadruples the price!

Jim Cockrum
www.SilentJim.com
Author of the free newsletter: "Creative eBay Selling"
Read by 100,000 eBay entrepreneurs

Hi John,
First of all it's so refreshing to see someone proudly display their eBay ID instead of hiding behind a cloak of secrecy. I have known you for a couple years now and you are without a doubt the real deal. I can wholeheartedly get behind your new PlanetSMS Mentorship Monthly newsletter. I especially like the personal access to you. Plus for the price it's a no brainer to join up. To those reading this, join up now, your business WILL improve. I can't wait to get my hands on your future issues.

Jason James
www.UntoldMarketingSecrets.com

John - You just keep getting better and better. This is over-delivering at its finest.

PlanetSMS Mentorship Monthly gives access not only to John Thornhill's marketing secrets (and he's holding nothing back) but also the opportunity of access to John himself.

This is pure quality.

If you only join one membership site this year - make it this.

Sara Brown
www.SaraBrown.com

John is all meat, no fluff.

You simply have to check out John's new membership site. For what you would spend for a trip or two to Starbucks, you can get inside John's head and unlock the step-by-step profit methods that can fill up your PayPal account, time after time after time!

Sign up today!

Mike Enos
www.PlatinumPowerSeller.com

Hey John,
Just wanted to let you know that the mentorship you have setup is absolutely fantastic. The video training shows the EXACT steps one needs to employ your methods. This is simply the best way to learn.

Not only are your offering video training, you're offering personal mentorship! For someone that earns thousands of dollars every month, and the fact that you're simply asking $10 per month for someone else to learn your skills is nuts!

Quality training from a quality marketer at a quality price. Seriously, what more can one ask for?

The Lazy Pig
www.InternetMarketerSchool.com

John,

I've just reviewed this month's newsletter and video and was extremely impressed with the "behind the curtain" look into your personal business model.

A lot of folks are going to be shocked, yet relieved when they discover the simplicity of your "success formula" as laid out on Page 2 of your (July) newsletter! I can hear it now, "What? Really? That's it? Wow!"

The beauty of your system is that most everyone has experienced it personally at some point online. But didn't have a clue that they were in a "system".. until now.

With your revealing instruction and personal mentoring to answer any question that members have along the journey, it's now possible for the 'average Joe' to start building and profiting from their very own money making system.. sooner than later.

I don't know how you can afford to hand out memberships that include all of this for only $10 bucks! But I CAN tell you that anyone who is smart enough to secure their spot will be extremely pleased and is guaranteed to receive more than their money's worth!

I'm looking forward to seeing what you're going to pull out of the "profit hat" next month.

Dave LoveLace
www.7DayProfitPlan.com

Hi John,

You really have put the cat among the pigeons now!

I have known you a lot of years now and watched you progress with giant leaps over the years, this leap is not just another giant one, it is going to be a milestone for you and everybody who follows your guidance. Giving so much for so little is madness, but hey, you don't get to where you are now by being totally sane! This is going to be BIG and you can quote me on that!

Dave Nicholson
www.PlanetDivinity.com

John,

I just finished browsing through your member's area and looking over the materials for month number 1. You have set the standard high for your future monthly updates!

I can't believe your customers are getting all this great content month after month, AND 'mentorship' with the top eBay eBook seller of all time.

This is a great product you have put together here, and I encourage anyone who wants to earn money with digital items to sign up and learn from the auction eBook king himself.

Mr. Black
www.AuctionSelling101.com

John,

Thank you for all the excellent information you have provided me with since I started in 2006. The information I have received from you is invaluable and I always learn something new from your newsletters.

I have been using your sales methods and tactics to maximum effect to help my business grow and grow.

Thanks for all the info and I look forward to a long business relationship as a PlanetSMS Mentorship Member.

Dan Sumner
www.PowerSellerDiaries.com

I've been subscribed to John's free newsletter for over a year now. It's no doubt one of the best newsletter's online. Each and every newsletter is jam packed with money making content that's so simple to follow...

Trust me I make sure I read each and every Issue...

Don't forget that's just the free one..

Now can you see why I'm so excited about John's exclusive paid members newsletter?

I can guarantee to you myself that John will go above and beyond with all his paid members...

I love the Step by Step video's inside the members area very easy to follow and simple techniques for anyone to start making instant cash...

Another thing I really like about PlanetSMS Digital Mentorship Monthly is the members get to say what they want to be taught.

That is very important...

Anyone reading this who is stuck making money online needs to join PlanetSMS Digital Mentorship Monthly now.

I can vouch that John knows how to make a lot of money online, and I ask you, please do not miss out on this opportunity. I'll see you on the inside...

What have you got to lose? - $10 that's it...

O yes I almost forgot - it comes with a full money back guarantee... so you actually have nothing to lose!

Great work John

Alex Jeffreys
www.EasyProfitAuctions.com


By now you may be picturing the increasing balance in your various online accounts from getting a real step by step plan for once. I bet you're thinking about all the problems you're going to find solutions to from the help you'll soon receive. Even hearing yourself asking all those questions that have long held you back and that you'll soon feel comfortable with just getting done.

In fact by now, I'd hazard a guess that you're wondering what an ongoing mentorship like this may cost, You've probably seen something of a similar ilk offered for hundreds per month, or if you were fortunate you may have found one or two for $67 - $97 per month.

The good news is I'm now in a position to over-deliver, and commit to revealing to you all I know in easy to follow monthly digital issues. A lot of people will join no matter what the cost, however it truly is my desire to help as many people succeed online as possible.
I want to build a lifelong partnership with you.

| | |
| --- | --- |
| | Yes John, I am ready to take my online business to the next level and learn advanced strategies. |
| | Yes John, I am ready to take my online business to the next level and learn advanced strategies. |
| | I am ready to work with you and start what could become a lifelong business partnership. |
| | I am ready to be trained and learn what it takes to truly succeed online. |
| | I am sick of being lied to with hyped up crap. The fact you reveal your eBay ID tells me you are genuine. I am also ready to learn how you make money outside eBay. |
| | I understand I have nothing to lose with your 56 day money back guarantee. If I am not 100% delighted with your service all I need to do is let you know within 56 days and I will receive a full refund, no questions asked. |
| | On that basis John please start my subscription. |

Access is instant. Even if it's 3am
Your login details will be sent to your inbox instantly after payment.

Your subscription is to receive one digital newsletter per month. Your digital newsletters will be uploaded to the members area before the last day of each month. You will be notified by email when each new digital newsletter becomes available.

ClickBank sells our products - they are a trusted online retailer specializing in digitally delivered products.
To Your Success, and Our Future together.

John Thornhill

P.S. Did you spot the 56 day Guarantee in the box above?.. it really does take away any perceived risk for you.

P.P.S. Be sure to act today to ensure the 'first mover advantage' mentioned in the bullets above. ( A real chance to 'have your cake and eat it')

P.P.P.S. Think about how much you could profit from this membership when I'm promoting your product for you! (also mentioned in the bullets in case you missed it).